Episodes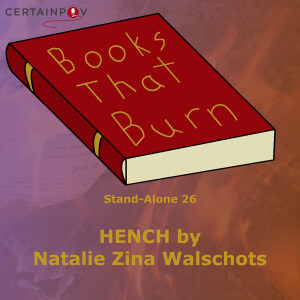 Monday Mar 06, 2023
Monday Mar 06, 2023
This episode we're discussing "Hench" by Natalie Zina Walschots. It's a story of using spreadsheets to show that the destructive "heroes" are the real villains.
PUBLISHER: William Morrow

YEAR: 2020

LENGTH: 416 pages

AGE: Adult

GENRE: Fantasy, Science Fiction, Superheroes

RECOMMENDED: Highly
Topic 1: Murder. Begins at (1:30), CW for murder.
Topic 2: Body Horror. Begins at (19:05), CW for gore, body horror.
Topic 3: Medical Trauma. Begins at (29:41), CW for injury detail, medical content, medical trauma.
Promo for CPOV Men of Steel; Spoiler-free wrap-up and ratings: Begins at (41:34).
Book TW for cursing, sexism, misogyny (graphic), ableism, grief (graphic), kidnapping (graphic), confinement, child abuse (brief), panic attacks (graphic), stalking, infidelity, toxic friendship, toxic relationship, sexual harassment (brief), alcohol (brief), drug use (smoking), excrement, blood, vomit (graphic), gore (graphic), injury detail (graphic), body horror (graphic), medical content (graphic), medical trauma (graphic), torture, violence (graphic), murder (graphic), major character death (graphic), death (graphic).
---
If you'd like to make a monthly donation, please check us out on Patreon.
To make a one-time donation please support us on Ko-Fi.
For fortnightly news and updates, as well as links to recent written reviews, subscribe to our newsletter.
You can check out Robin's written review of the book at Reviews That Burn.
Find all our links on our Carrd.
Music provided by HeartBeatArt and is used with permission.
Members of the Certain Point of View network of podcasts.