Episodes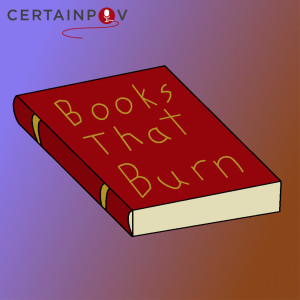 Monday Sep 06, 2021
Monday Sep 06, 2021
This fortnight we're discussing "Bridge to Terabithia" by Katherine Paterson, many people's first shockingly sad childhood book.
TITLE: Bridge to Terabithia
AUTHOR: Katherine Paterson
PUBLISHER: HarperCollins
YEAR: 1977
LENGTH: 192 pages
AGE: Middle Grade, Young Adult
GENRE: Realistic Fiction
RECOMMENDED: Yes
Book CW for ableist language, bullying, homophobia (brief), fatphobia, sexism, grief, child abuse (not depicted), domestic abuse, violence, child death, major character death, death.
Topic 1: May Belle - Domestic Abuse. Begins at (1:35), CW for domestic abuse, mention of death.
Topic 2: Leslie - Misogyny. Begins at (8:15), CW for misogyny, mention of homophobia, mention of child death.
Topic 3: Jess - Survivor's Guilt. Begins at (22:24), CW for misogyny, child death.
Promo for CPOV Autographs; Spoiler-free wrap-up and ratings: Begins at (31:16). CW for mention of homophobia.
---
If you'd like to make a monthly donation, please check us out on Patreon.
To make a one-time donation please support us on Ko-Fi.
For fortnightly news and updates, as well as links to recent written reviews, subscribe to our newsletter.
You can check out Robin's written review of the book at Reviews That Burn.
Find all our links on our Carrd.
Music provided by HeartBeatArt and is used with permission.
Members of the Certain Point of View network of podcasts.