Episodes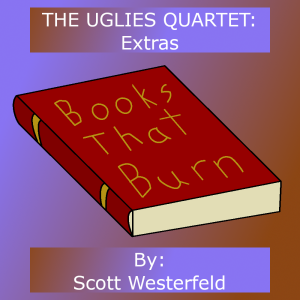 Monday Oct 05, 2020
Monday Oct 05, 2020
This fortnight we're discussing "Extras" by Scott Westerfeld. 
Book CW for anxiety and gaslighting. 
Topic 1: Frizz - Compulsion. Begins at (0:50), CW for compulsion, gaslighting, discussion of trauma response, anxiety. 
Topic 2: Aya - Social Anxiety. Begins at (8:15), CW for anxiety. 
Topic 3: Aya - Loss of Privacy. Begins at (21:21), CW for loss of privacy, anxiety. 
Promo for Crit Chat; Spoiler-free wrap-up and ratings: Begins at (37:50). 
--- 
If you'd like to make a monthly donation, please check us out on Patreon. 
You can check out Robin's written review of the book at Reviews That Burn. 
Find all our links on our Carrd. 
Music provided by HeartBeatArt and is used with permission.