Episodes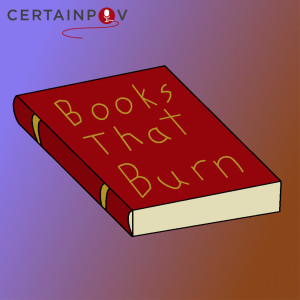 Monday Jun 14, 2021
Monday Jun 14, 2021
This fortnight we're discussing "Under the Pendulum Sun" by Jeannette Ng, with special guest Dare! You can find them on Twitter, or check out their Linktree for more details about their various streaming and gaming exploits.
TITLE: Under the Pendulum Sun
AUTHOR: Jeannette Ng
PUBLISHER: Angry Robot
YEAR: 2019
LENGTH: 409 pages
AGE: Adult
GENRE: Fantasy
RECOMMENDED: Yes
Book CWs for sexism, alcoholism, colonialism, incest, emotional manipulation (backstory), mental illness, confinement, body horror, suicidal thoughts, animal death, child death (backstory), murder, major character death, death.
Topic 1: Disassociation. Begins at (1:35), CW for Discussion of historical harm to children and autistic people, stigmatization of autistic behaviors.
Topic 2: Religious Trauma. Begins at (11:25), CW for suicidal tendencies, religious trauma (Protestant Christianity), biblical justification for harm, death (brief mention).
Topic 3: Incest. Begins at (23:10), CW for incest, biblical justification for harm, death (brief mention).
Promo for CPOV - RMC vs CG; Spoiler-free wrap-up and ratings: Begins at (39:35). CW for eugenics mention.
---
If you'd like to make a monthly donation, please check us out on Patreon. 
To make a one-time donation please support us on Ko-Fi.
You can check out Robin's written review of the book at Reviews That Burn.
Find all our links on our Carrd.
Music provided by HeartBeatArt and is used with permission.