Episodes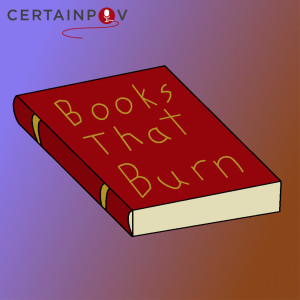 Monday Jun 28, 2021
Monday Jun 28, 2021
This fortnight we're discussing "Black Sun" by Rebecca Roanhorse, the first book of the series "Between Earth and Sky". As of the time of recording only "Black Sun" was published".
TITLE: Black Sun
AUTHOR: Rebecca Roanhorse
PUBLISHER: Gallery / Saga Press
YEAR: 2020
LENGTH: 464 pages
AGE: Adult
GENRE: Fantasy
RECOMMENDED: Highly
Book TW for racism, xenophobia, vomit, blood, gore, child abuse, murder, violence, suicide, major character death, death.
Topic 1: Naranpa - Coup Attempt. Begins at (1:35), CW for discussion of death, violence.
Topic 2: Okoa - Death of a Parent. Begins at (11:22), CW for death of a parent, suicide, murder.
Topic 3: Xiala - Ostracization. Begins at (19:48), CW for disability, ostracization, child abuse, dismemberment.
Promo for CPOV Screen Snark; Spoiler-free wrap-up and ratings: Begins at (27:32). CW for discussion of racism, death.
---
If you'd like to make a monthly donation, please check us out on Patreon. 
To make a one-time donation please support us on Ko-Fi.
You can check out Robin's written review of the book at Reviews That Burn.
Find all our links on our Carrd.
Music provided by HeartBeatArt and is used with permission.
Members of the Certain Point of View network of podcasts.